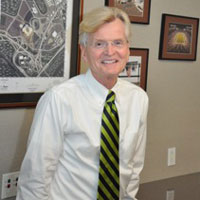 Timothy C. McDonough
Senior Advisor – New Jersey
A life-long football fan who has been attending Jets and Giants games since he was ten years old, Timothy joins the NY/NJ Super Bowl Host Company as Senior Advisor for "all things New Jersey." In his role, Timothy assists the President and CEO, as well as the entire Host Company staff, in making sure we communicate with State leaders how to involve as many New Jersey residents and businesses in Super Bowl XLVIII as possible.
Mayor of Hope Township since 1989, Timothy brings extensive knowledge of the state of New Jersey to the Host Company. He has extensive experience with transportation policy issues, homeland security, infrastructure finance and the operations of the largest independent state authorities. He was Executive Director of the Garden State Parkway and was Deputy Executive Director of the New Jersey Turnpike Authority until 2004. Among his major accomplishments at the Authorities was to completely revamp the New Jersey E-ZPass system and to spearhead the consolidation of the New Jersey Highway Authority and the New Jersey Turnpike Authority.
Additionally, Timothy has years of experience working with national, state and local leaders. He is the past president of the New Jersey League of Municipalities and the New Jersey Conference of Mayors. He currently holds leadership positions with the US Conference of Mayors, DARE NJ, Hackettstown Regional Medical Center, DAYTOP NJ and the Hope Historic Society. Timothy has served as a board member of the New Jersey Association of Environmental Authorities, the Warren County Pollution Control Finance Authority, the New Jersey Business and Industry Association, the New Jersey Policy Research Organization and Fannie Mae.
Timothy earned his Bachelor of Arts in Political Science & Business Administration from Fairfield University in Fairfield, Connecticut.
What is your wish for the weather?
Fifty degrees all week with light snow at game time.
What local NY/NJ spot does every visitor or local have to check out
?
Historic Hope, New Jersey is number one. After that, the great beaches along the NJ shore.
When and how did you become a football fan?
My father played football for Seton Hall Prep and Colgate University. His love of the game was passed on to me and my two brothers.
Back